Identify Fake / Reproduction Gale Vases
The two worst things you can do when collecting Galle vases is to pass on a good deal because you think the vase is fake, or buy something that you think is a good deal only to learn it is fake.  The fear of buying a fake keeps many potential collectors out of the market.  Unfortunately, Galle is probably the single most reproduced type of art glass out there today.  So here are some tips on what you can do to avoid buying fakes.
1)  Work with a reputable dealer.  This is the easiest way to avoid buying fakes.  Yes, you will probably be buying at retail prices.  However, you will be building a relationship with someone who can provide advice and peace of mind.  We do sell authentic Galle vases and provide free authenticity opinions.  Contact us with any questions:  Vases@GalleArtGlass.com
2)  Don't buy anything that says TIP.  Tip vases aren't really made to deceive collectors.  It is pretty obvious.  If you see the word Tip then you know you are dealing with a modern reproduction.  Many fakes are much more deceptive.  The lack of Tip mark certainly does not automatically guarantee authenticity.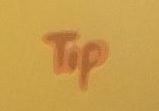 3)  Know authentic Galle vase shapes.  We have about 30 Galle vase shapes listed in our guide.  Knowing which shapes are authentic is the first thing you can do prevent yourself from buying fakes.  Sometimes you can work backwards and try to match your vase with a fake.  There are hundred of fakes listed on ebay.  There are hundreds more listed on GalleVases.com.  We have no affiliation with that site, so enter it at your own risk.  It is run by people in China making reproductions.  Lots of other fakes come out of Romania.
4)  Use the context clues.  Galle vases have been popular and collectible since their original creation in the late 19th century.  You don't have to be an antique genius to know that Galle vases are valuable.  If you see someone selling a vase at steep discount then that should raise a red flag.  However, the same rule doesn't work in reverse.  A high price certainly does not guarantee authenticity.  If you see a dealer selling baseball cards and he happens to have ten Galle cameo vases then that should also raise a red flag.
5)  Don't focus solely on the Galle mark.  The easiest part of any antique to fake is the mark.  Authenticity is established based on the shape and quality.  The last thing you want to do is scrutinize marks between a known authentic vase and another vase in question.  The mark should be one of the last things you worry about.
6)  Be aware of protective language.  This will help you in an auction setting.  If you see phrases like Galle style, in the manner of Galle, with a mark that reads Galle, then you are almost certainly looking at a vase that the seller knows is a reproduction.
Still have more questions?
We understand that a written guide is far from a comprehensive way to establish if you have a fake or real vase.  We would encourage you to send us pictures of your vase and we can tell you for sure if it is real or not.  We look forward to hearing from you.  Vases@GalleArtGlass.com